Introduction
Deciphering the Role of a Locum Optician
Responsibilities of a Locum Optician
Importance of the Role
Conclusion
Introduction
In the world of eye care, countless professionals play pivotal roles in ensuring our well-being. Among them are the Locum Opticians (Dispensing, Contact Lens, and Domiciliary) who stand as a crucial figure, safeguarding and enhancing our sense of sight. In this blog post, we will look closely into the roles, exploring their responsibilities, the importance of their work, and how they contribute immensely to general eye health in the optical field.
Deciphering the Role of a Locum Optician
A proficient and certified healthcare expert with a primary focus on the field of eye care. Unlike standard Opticians confined to static settings, our Locum Optician stands as adaptable, self-reliant professionals. They seamlessly step in temporarily, bridging gaps when the optician is absent. This dynamic role is characterized by expert capability and exceptional communication finesse. The power to engage functionally with diverse patient demography underscores their value. Partner with our agency today, to embark on a premium recruitment journey, guaranteeing the finest vision care delivered through the skillful expertise of our Locum Opticians.
From a viewpoint within our agency, we have come to understand that a successful Locum Optician possesses a strong foundation in Optometry and effective communication skills. They engage with patients from different work of life, providing quality care and stimulating trust.
At Verovian Recruitment Agency, we take pride in promoting the seamless integration of these skilled professionals into optical settings. Through collaboration with us, you gain access to experienced professionals dedicated to upholding the highest standards of patient care.
Responsibilities of a Locum Optician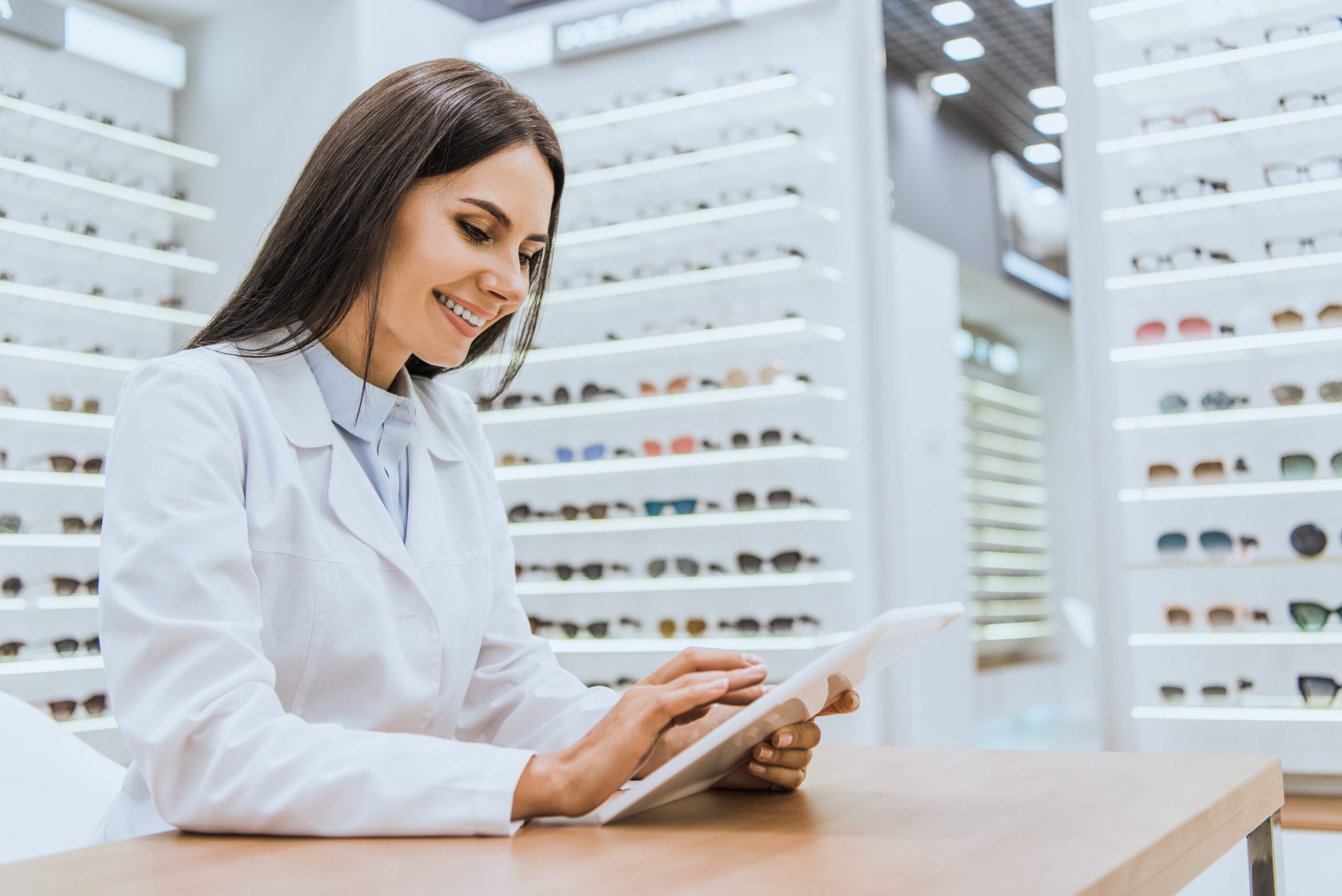 They provide observation and advanced diagnostic tools and identify eye abnormalities and conditions such as glaucoma, cataracts, macular degeneration, and more. These early detection efforts contribute significantly to preventing patients' vision.
They perform eye examinations to assess visual acuity, prescribe corrective lenses, and discover potential eye diseases. These examinations are critical for the early detection and prevention of serious eye issues.
One of their key responsibilities is to accurately determine the prescription needed for corrective lenses, such as glasses or contact lenses.
They assist patients in selecting suitable frames and ensure proper fitting to maximize comfort and effectiveness.
They educate patients about proper eye care practices, including hygiene, lens care, and preventing eye strain.
Provides valuable insight into maintaining optimal eye health and managing specific visual challenges.
In cases where more specialized care is needed, Locum Opticians refer patients to Ophthalmologists or other healthcare professionals.
Importance of the Role
One of the remarkable aspects of being a Locum Optician is the adaptability it demands. Working in a different environment, meeting diverse patients' needs, and collaborating with various healthcare teams require a unique skill set. Locum Opticians thrive on this versatility, keeping them engaged, sharp, and continuously learning.
Conclusion
The contribution of locum opticians to elevating vision care cannot be understated. Their flexibility and expertise ensure that individuals have access to eye care services when they need them most. By conducting comprehensive eye examinations, recommending corrective lenses, dispensing eyewear, offering expert advice, and supporting specialized eye care, locum opticians play a pivotal role in enhancing vision and care.
This role is a blend of fidelity, compassion, and expertise. Their contributions to eye care are priceless, as they provide essential services that impact individual daily lives and overall well-being. As a dedicated and outstanding recruitment agency, we will help Locum Optician stand as an indication for the advanced world of healthcare, committed to enhancing vision and promoting eye health. To be part of our agency, kindly visit https://verovian.vision/ to register with us.