Introduction
Importance of Working with an Agency
Conclusion
Introduction
In the dynamic landscape of today's workforce, locum professionals play a vital role in meeting the growing demand for temporary positions in the optical industry across the UK. Navigating the locum environment can be exciting and challenging. One key factor that can significantly enhance your locum experience is partnering with a reputable agency. In this article, we will explore the importance of working with an Agency as a locum professional and the benefits it brings to your career.
Importance of working with an Agency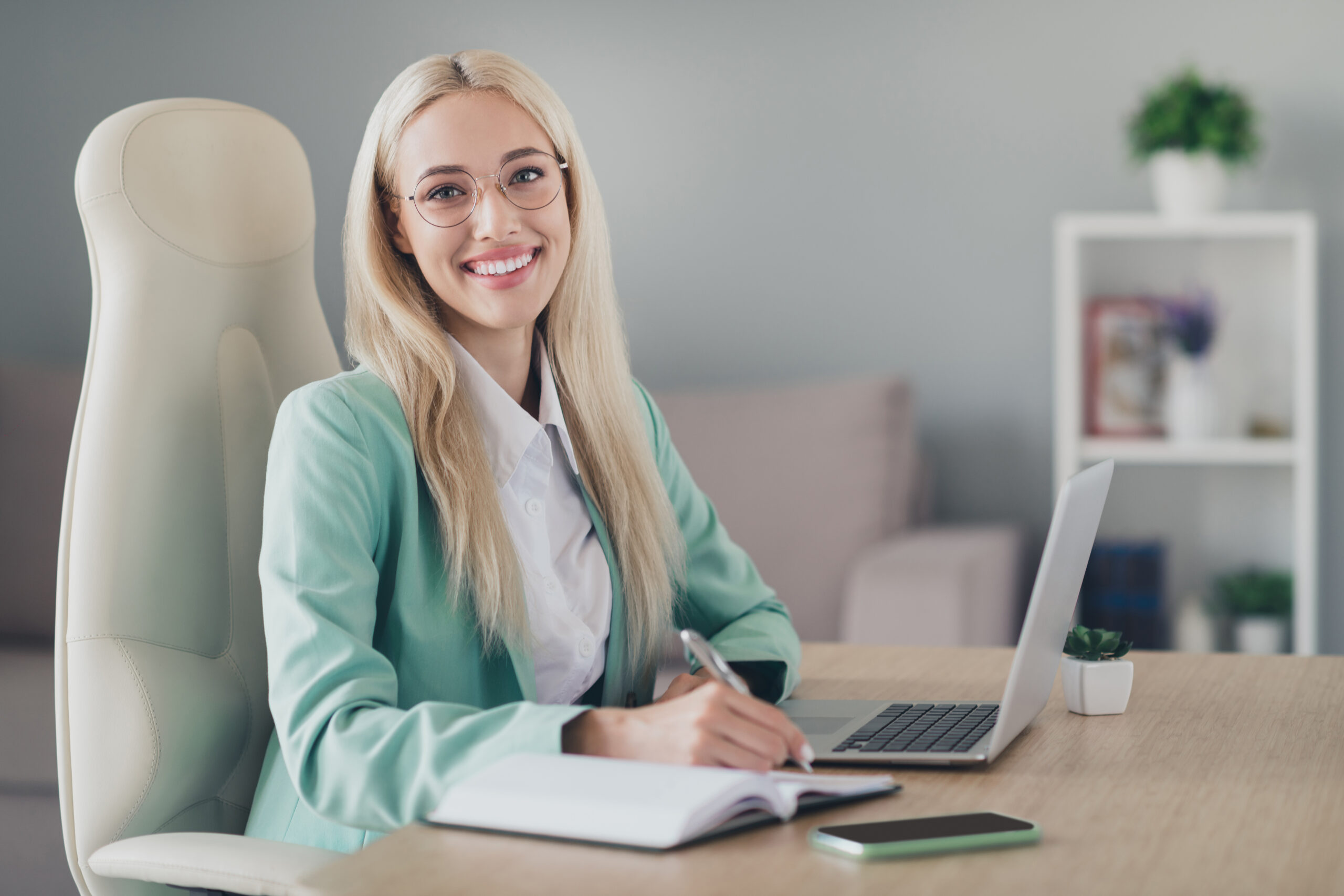 Streamlined Job Search
Locum agencies serve as invaluable intermediaries between professionals and employers, offering access to a vast network of job opportunities. Instead of spending hours scouring job boards or handling the logistics of job applications, agencies streamline the process, connecting you with positions that align with your skills and preferences. This not only saves time but increases the likelihood of finding the perfect locum assignment quickly.
Administrative Support
The administrative aspects of locum work can be overwhelming. Agencies can step in to handle paperwork, contracts, and the intricacies of licensing and credentialing processes. This support not only ensures compliance with regulations but also allows you to focus on what you do best, providing quality care. While the agency takes care of the administrative burden.
Negotiation and Compensation
Securing fair compensation and benefits is a crucial aspect of any job, and locum professionals are no exception. Agencies have dedicated teams to negotiate competitive rates on your behalf. This will not only ensure that you are appropriately compensated for your skills and experience but also simplify the negotiation process, making it a win-win for both you and the hiring institution.
Flexibility and Variety of Assignments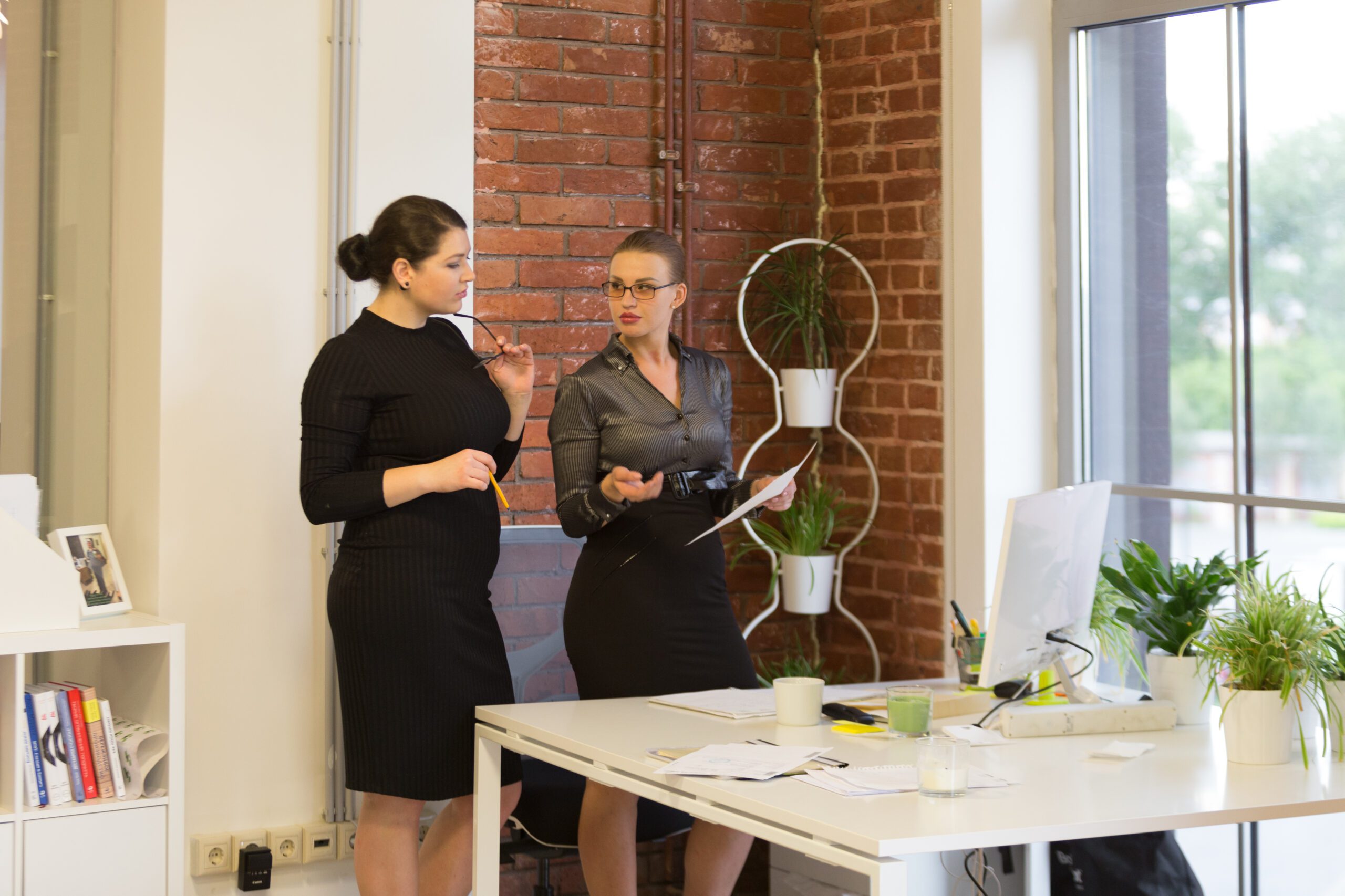 One of the key characteristics of locum work is the flexibility it offers. They enhance this flexibility by providing access to a diverse range of assignments. Whether you are interested in exploring different specialties, settings, or locations, working with an agency opens doors to a variety of opportunities, allowing you to tailor your locum experience to your professional and personal preferences.
Risk Mitigation and Professional Guidance
Navigating the legal and regulatory landscape of locum work can be complex. Agencies can serve as valuable guides, offering professional advice on everything from compliance issues to career decisions. In challenging work situations, having an agency by your side provides a support system, helping you navigate difficulties and ensuring a positive locum experience.
Building a Long-Term Relationship with an Agency
Establishing a long-term relationship with a locum agency goes beyond securing individual assignments. It is about building trust and maintaining open communication. our reliable agency becomes a partner in your career journey, offering ongoing support, insights, and opportunities for continuous growth. Testimonials and success stories from locum professionals highlight the strength of these enduring partnerships.
At Verovian Optical Agency, we are a specialist in Locum Recruitment for Optical Professionals across the United Kingdom. We take pride in building a strong reputation for our innovative methods, guaranteeing satisfaction and results by providing locum assignments tailored to your preferences. Our user-friendly platform and mobile application will help you manage your assignments and schedules, book shifts, and communicate with colleagues effortlessly, even when you are on the move. As part of our registered members, you become part of a team that positively influences lives every day. You will thrive in diverse environments, honing your skills while adapting to varying practices. Our clients rely on us for top-notch Locum Professionals, ensuring a steady flow of assignments all year round. Furthermore, you will be opportune to work closely with our dedicated consultants and earn a referral bonus of up to £200.
Conclusion
In conclusion, working with a locum agency is not just about finding jobs, it is about shaping a fulfilling and rewarding career. The advantages of streamlined job searches, administrative support, negotiation assistance, flexibility, risk mitigation, and ongoing professional guidance make the partnership with an agency indispensable for locum professionals. As you embark on your locum journey, consider the possibilities that a reputable agency like Verovian Optical Recruitment Agency can offer in enhancing your career.
Introduction
The world of optometrists is a dynamic and ever-evolving field, and within it, the role of a locum optometrist is a distinctive, and thrilling opportunity. In this blog post, we will look into the life of a locum optometrist, exploring the benefits of pursuing a career as a locum optometrist, and how to overcome the challenges that come with it.
Here is a glimpse into their professional journey.
Life of a Locum Optometrist
The life of a locum optometrist is a unique and dynamic professional life, filled with diverse experiences as they move from one temporary assignment to another, providing eye care services in various settings. This role offers unique benefits and challenges that contribute to a rich and varied professional life.
Here is a glimpse into their professional journey
Benefits of Pursuing a Career as a Locum Optometrist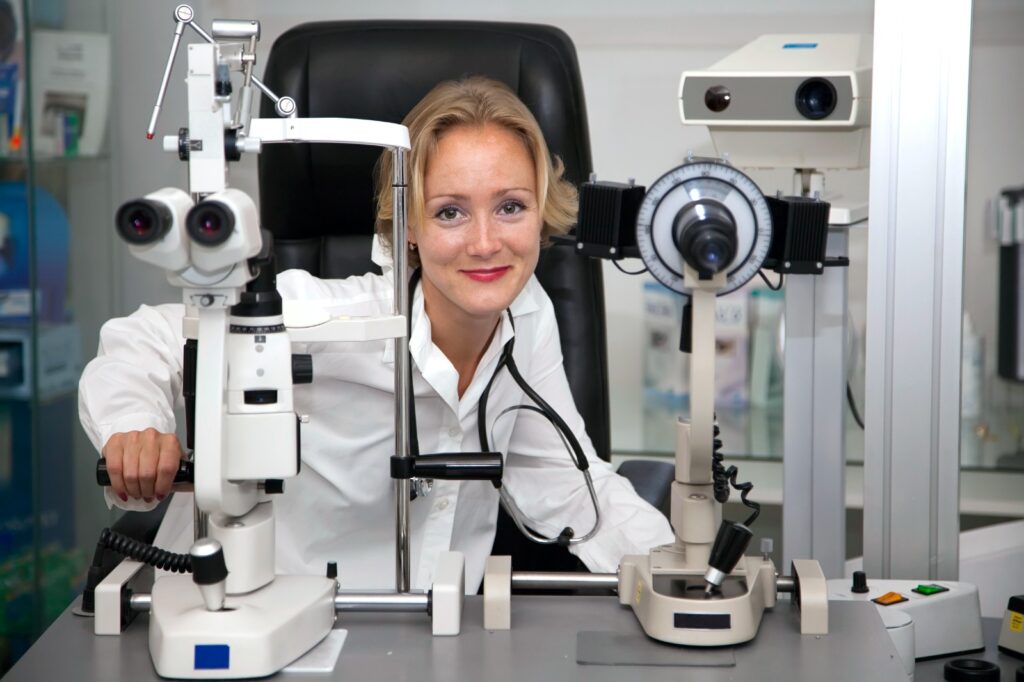 Diversity: Working as a Locum Optometrist allows you to grow, and explore different roles and positions in your profession. You get familiar with different types of optical organizations and pick up best practices to adapt to your professional standard of operation. This is particularly important if you are unsure of the specialty you want to embark on. Working in different sectors of your profession contributes to continuous professional development which can help you in developing your skills and become a competent optometrist.
Increased Earning Potential: In essence, choosing a locum optometry position is financially rewarding, offering the possibility of higher earnings through competitive daily or hourly pay rates, and the potential for extra incentives which may include bonuses, benefits, or other financial perks beyond the standard pay. This financial flexibility is one of the attractive aspects of working as a locum, providing optometrists with more control over their income based on the time and effort they invest in their temporary assignments.
Flexibility and Autonomy: Flexibility is one of the reasons some optical practitioners such as optometrists and opticians join locum. Locuming allows you to plan your work-life balance as a locum optometrist, and to choose the period you want to work for and the location you wish to work in. This flexibility is rare in a permanent contract.
Networking: Locum builds relationships and professional networks that can better foster best practices, and patients beyond the workplace. Working alongside teams of skilled optical practitioners helps in networking for future job opportunities, knowledge exchange, and collaboration on various healthcare initiatives.
Tax Advantages: Locum Optometrists may have some tax advantages, such as deductions related to travel expenses and business-related costs. Local tax laws play a crucial role in determining the eligibility and scope of these advantages. Depending on the jurisdiction, Locum Optometrists may enjoy specific tax-related perks tied to their professional activities.

In summary, embracing the adventure of being a locum optometrist offers a range of benefits, from flexibility and autonomy to diversity, increased earning potential, networking opportunities, and tax advantages. It can be an attractive option for those seeking a dynamic and varied career in optometry.


Overcoming the Challenges of Working as a Locum Optometrist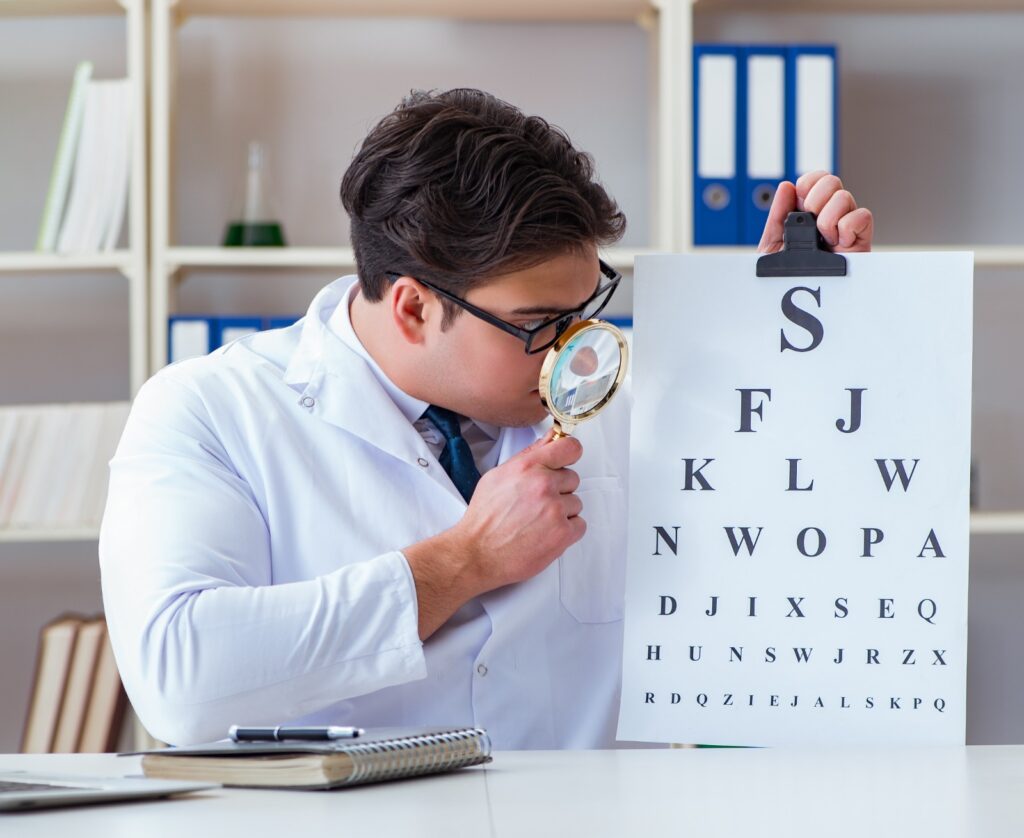 Being a locum optometrist comes with its challenges. Some of the challenges are lack of job security, market competition, variable work environment, scheduling and availability, communication, and feedback.
We will look into how you can overcome the challenges of working as a Locum Optometrist. Successfully navigating these challenges requires strategic planning, effective communication, and a commitment to maintaining high standards of service.
Facing job insecurity is a common challenge for Locum Optometrists. To mitigate this risk, broaden your client base by registering with a reputable, and well-established locum agency. This ensures a consistent stream of opportunities and facilitates the development of a strong professional relationship. At Verovian Optical Recruitment Agency, we will assist you in effectively managing your work schedule ensuring you have assignments when you desire them and the flexibility to take days off when needed. To begin, you can register with us at Verovian Optical Recruitment Agency.
To have quick adaptability and less stressful working experience, it is essential to do research in advance about the environment you will be working in before your assignment begins. Gather essential information about the organization including the distance between your residence to the workplace, the code of conduct and policy of the organization, and the availability of nearby cafeterias or coffee shops. As a well-regarded Optical Recruitment Agency in the UK, we actively undertake the task of researching the organization or company our registered members would be working with, aiming to guarantee an effortless and stress-free work environment for them.
When working for an organization, always make sure you deliver an excellent job and work effectively during the time you are there. This will help you maintain a good reputation within the organization, making it easy for you to be called back by the organization when the need arises and also to line up your next role.
Develop strong negotiation skills, particularly in conversations related to contracts, compensation, and working conditions. Being assertive and clear about your expectations can lead to more favorable terms. In our capacity as a highly esteemed optical recruitment agency, we take up the responsibility of negotiating competitive pay rates and additional incentives with employers on behalf of our registered members.

It's important to assess your risk of fatigue and avoid getting to the stage where it impacts your ability to be productive. Before embarking on your tasks, access and compare the priorities and responsibilities within your workload. This proactive approach helps you manage your energy levels effectively, ensuring that fatigue does not hinder your overall ability to perform and be productive in your work.
At Verovian Optical Recruitment Agency, we provide valuable support to qualified locum optometrists by connecting them with available job opportunities that match their skills, experience, and preferences. We have extensive networks and partnerships with reputable optical facilities such as hospitals, optical clinics, and optical centers which make it easy for our registered members to get job when they want.
Furthermore, we act as an intermediary between locum optometrists, and optical organizations, negotiating terms of employment, including pay rates, bonuses, working hours, and any additional benefits. Making sure that they receive fair compensation for their services.
Additionally, we assist our registered members with gathering the necessary documents, certifications, and licenses, verifying if they meet the requirements of the positions they are applying for.
Register with us at Verovian Optical Agency for a successful career in Locum.
Conclusion
The life of a locum optometrist is filled with diverse experiences, flexibility, and networking opportunities. The ability to make a positive impact in different communities, collaborate, and learn from a multitude of optical professionals make locum work an exciting option.
If you have an adventurous spirit with a passion for eye care, embrace the adventure of being a locum optometrist and start a rewarding and exciting journey that allows you to explore new places, meet diverse patients, and enhance your professional skills.
Introduction
Understanding General Optical Council (GOC) requirements
Their Roles and Benefits as a Regulatory Body for Optical Practitioners
Tips for a successful GOC registration
Maintaining The GOC Registration
Conclusion
Introduction
Welcome to our informative blog dedicated to carefully directing the General Optical Council (GOC) registration process for optical professionals. The General Optical Council plays a crucial role in ensuring the competency and ethical standards of optometrists, dispensing opticians, contact lens opticians, and other eye care professionals. In this guide, we will explore the significance of General Optical Council registration, detailing who needs to register, the step-by-step process certified identification form, and the ongoing requirements for maintaining registration. Whether you are a seasoned practitioner or a student embarking on a career in optics, this blog aims to simplify the complexities of General Optical Council registration, offering valuable insights and tips to help you navigate this essential aspect of your professional journey.
Understanding General Optical Council Requirement
The General Optical Council (GOC) is an independent statutory body created by the Opticians Act 1958, and the current governing legislation is the Opticians Act 1989 to regulate optical professionals in the UK. Its primary purpose is to protect the public by setting and maintaining high standards of competence and conduct within the optical sector. The GOC oversees optometrists, dispensing and contact lens opticians, domiciliary opticians, store base opticians, student opticians, and optical businesses, ensuring that they adhere strictly to the established standards and codes of practice. The following are the key requirements to be on the General Optical Council register.
Registration and Qualifications: Optical professionals in the UK must be registered with the GOC to practice legally. Kindly register at the certified identification form this link to register from overseas is for practitioners applying to register with GOC outside the United Kingdom. The registration process involves meeting specific educational and training requirements. Optometrists and opticians, for example, must possess relevant qualifications from approved institutions. Such as an undergraduate degree in Optometry by an optometrist approved by the GOC, and a full-time diploma in Opticianry by the opticians followed by working under supervision for a year.
Continuing Education: The GOC emphasizes the importance of continuous professional development (CPD) to ensure that optical professionals stay current with advancements in their field. This requirement encourages practitioners to engage in ongoing learning, attend relevant courses, and stay abreast of new technologies and techniques. For more information kindly click on the above link. CPD: Information for Registrants
Standards of Practice: The GOC has established a set of standards Standards of practice that optical professionals must adhere to. These standards cover various aspects of patient care, including communication, consent, and record-keeping. By following these standards, practitioners contribute to the provision of safe and effective eye care services.
Professional Conduct: Maintaining high standards of professional conduct is paramount in the optical profession. The General Optical Council sets clear guidelines on ethical behavior, ensuring that optical professionals treat patients with respect, dignity, and confidentiality. Any breaches of professional conduct may lead to disciplinary action.
Fitness to Practice: They assess the fitness to practice Raising Concerns of optical professionals, and ensuring that they are physically and mentally capable of delivering safe and effective care. This includes addressing concerns related to health, conduct, and performance that may impact a practitioner's ability to meet the required standards.
Complaints Handling: The GOC provides a mechanism for handling complaints against optical professionals. This process ensures that concerns raised by patients or other stakeholders are thoroughly investigated, and appropriate actions are taken to address any shortcomings in professional practice.
Their Roles and Benefits as a Regulatory Body for Optical Practitioners
The GOC is responsible for establishing and maintaining standards of competence, conduct, and performance for optical professionals. These standards serve as a benchmark for practitioners, outlining the expected level of expertise, ethical behavior, and professionalism required in the field.
They manage the registration and licensing of optical professionals, including optometrists, dispensing opticians, student opticians, and optical businesses. This process ensures that individuals practicing in the optical sector meet the necessary qualifications and adhere strictly to the prescribed standards.
Through accreditation and approval processes, the GOC monitors and regulates the education and training programs for optical professionals. This ensures that practitioners receive a high-quality education, stay updated on advancements in the field, and maintain the necessary skills to provide optimal eye care services. Kindly visit Education for more information.
General Optical Council has the authority to enforce the established standards through its disciplinary processes. This includes investigating complaints, conducting fitness-to-practice assessments, and taking appropriate action against practitioners who fail to meet the required standards, thereby safeguarding the public.
Benefits of Being Registered with the GOC:
Public Protection: One of the primary benefits of the GOC is the protection of the public. By setting and enforcing high standards, the General Optical Council ensures that optical practitioners provide safe and effective eye care services, instilling confidence in the public and promoting overall eye health.
Professional Credibility: The GOC enhances the credibility of optical professionals by establishing a framework that emphasizes education, competence, and ethical conduct. Being registered with the GOC signifies to the public and colleagues that a practitioner has met rigorous standards and is committed to maintaining professional excellence.
Quality Assurance: Through its oversight of education, training, and practice standards, the GOC contributes to the overall quality assurance in the optical profession. This commitment to excellence benefits both practitioners and the public by ensuring that eye care services consistently meet high standards.
Tips for a Successful GOC Registration
Familiarize yourself with the specific requirements outlined by the General Optical Council for your profession, whether you are an optometrist, dispensing optician, or a student optician. Pay attention to educational qualifications, training, and any additional criteria for registration.
Ensure that your education and training come from GOC-approved institutions. Verify that your qualifications meet the standards and are recognized by the regulatory body. This step is fundamental to a successful registration process.
Gather all necessary documentation, including academic transcripts, certificates, and evidence of practical training or work experience. Having a well-organized and complete set of documents will facilitate the registration process and help you demonstrate your eligibility.
Stay updated on any changes to GOC requirements or registration processes on their website. The GOC may periodically update its guidelines, and being aware of these changes ensures that you are well-prepared and can adapt your application accordingly.
Depending on your profession, you may be required to pass a registration exam. Prepare thoroughly for the exam by reviewing relevant materials, attending preparatory courses if available, and practicing past exam questions. This step is crucial for demonstrating your competence in the field.
The GOC places a strong emphasis on CPD, so make sure you have a plan in place to fulfill these requirements. Engage in relevant training, attend conferences, and stay informed about industry advancements. Document your CPD activities meticulously to present during the registration process.
Utilize the resources provided by the GOC, such as guidance documents, handbooks, and online information. The GOC website is a valuable source of information, offering details about the registration process, standards of practice, and other important aspects of the profession.
Plan your registration process well in advance and be mindful of any application deadlines. Starting early allows you to address any unforeseen challenges that may arise and ensures a smoother registration experience.
If you have specific questions or concerns about the registration process, consider seeking advice from professional bodies, mentors, or individuals who have successfully navigated the GOC registration. Their insights can be valuable in ensuring you meet all requirements.
By following these tips, aspiring optical professionals can enhance their chances of successfully crossing the registration process, paving the way for a fulfilling and compliant career in the field of optics.
Maintaining the GOC Registration
You can access your MyGOC account. This area of the website will allow you to update your details, download a receipt, set up a direct debit, and complete annual retention. The registration year runs from 1 April to 31 March. Your annual renewal fee will be due by 15 March each year.
Maintaining General Optical Council registration involves an ongoing commitment to professional development and adherence to established standards. Continuous engagement in relevant continuing education, attending GOC-approved courses, and participating in activities that contribute to one's skills and knowledge are essential. Practitioners must document their Continuing Professional Development (CPD) activities and stay informed about any updates or changes in GOC requirements. Adhering to the GOC's code of conduct, ethical guidelines, and practice standards is crucial.
Our Recruitment Agency can help you maintain the General Optical Council (GOC) registration. While the primary responsibility for maintaining GOC registration lies with the individual practitioner, Our Recruitment Agency can assist by providing guidance on the ongoing requirements and facilitating access to relevant training opportunities.
We offer information about GOC-approved courses, Continuing Professional Development (CPD) opportunities, and updates on regulatory changes. To be part of our Agency kindly visit our website at https://verovian.vision/register/. Our Agency also provides insight into understanding the GOC standards of practice, code of conduct, and ethical guidelines, ensuring that candidates are well-informed and compliant.
However, candidates need to take a proactive role in managing their GOC registration, staying informed about requirements, and actively participating in professional development activities. The collaboration between candidates and a recruitment agency can contribute to a holistic approach to career development within the optical field.
Conclusion
In conclusion, embarking on the journey of the General Optical Council registration is a commitment to excellence in the optical profession. By understanding and fulfilling the requirements, staying informed, and actively participating in professional development, aspiring and practicing optical professionals pave the way for a successful and fulfilling career. The collaboration between individuals and supportive resources, like our recruitment agency, contributes to a seamless and enriching registration process, ensuring the highest standards in eye care. Best of luck on your path to GOC registration.
Introduction
In today's world, Locum Opticians are evolving around the professional landscape, and it has gained more ground in the optical industry. It doesn't matter whether you are a professional searching for a flexible work arrangement or a newly qualified contact lens or dispensing optician looking for an eye care clinic where you can start the building of your career. Locum work will create an avenue for you within the optical industry.
This blog post will help you understand the concept behind the locum optician profession by highlighting the benefits, challenges, and tips on how you can become a successful Locum Optician.
Benefits of Being a Locum Optician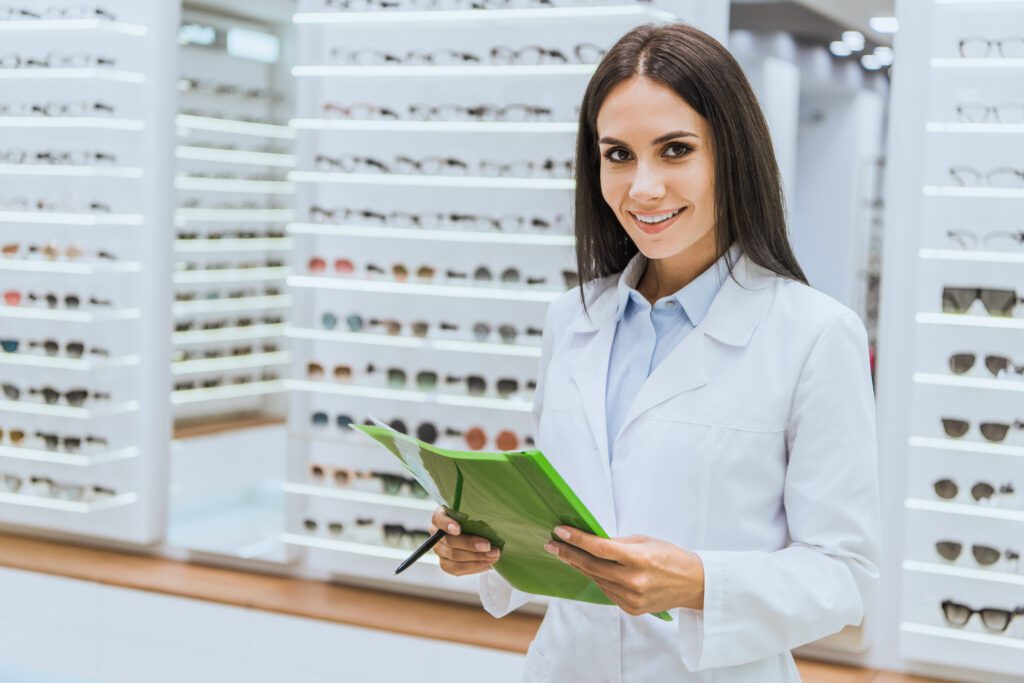 Flexibility in schedule: You enjoy unparalleled freedom, with the flexibility to determine your work hours and ample time for personal pursuits. You have the autonomy to decide when and how you work, with the freedom to take extended vacations without facing scrutiny or interrogation, as you are in control of your schedule. The absence of binding obligations or agreements with the company or employers allows you to explore and experiment without being bound by prolonged work commitments.

Networking and Collaboration: As a Locum Optician, you have the opportunity to engage in diverse organizational environments, fostering connections and collaborations with experienced optical professionals. This experience allows you to explore a variety of settings, ranging from large public eyecare centers to small private optical clinics.

Efficiency and Productivity: Locum Opticians have reduced administrative tasks, such as scheduling, billing, and record-keeping, which can be time-consuming. When these duties are minimized, they can dedicate additional time and effort to delivering high-quality patient care. This allows them to extend the duration of interactions with each patient, address concerns comprehensively, conduct thorough examinations, and ensure a positive overall experience.
Personal and Professional Growth: The diverse experiences gained through locum work contribute to both personal and professional growth. Locum Opticians become more confident, adaptable, and resourceful, which positively impacts their overall career trajectory. They develop strong adaptability skills as they quickly integrate into new workplaces, adjusting to different team dynamics, office protocols, and management systems. This adaptability is a valuable skill in a dynamic optical landscape.
Financial Benefits: Locum opticians have the potential to earn higher hourly rates, and negotiate favorable contract terms based on the demand for their services and the nature of their assignments. This financial flexibility can be particularly appealing for those looking to maximize their income.
Challenges of Being a Locum Optician
It's important to note that while there are numerous benefits to working as a locum optician, it may also come with challenges such as lack of job security, potential for career growth, financial reward, and the need to quickly adapt to new environments. Individuals considering locum work should weigh the advantages and potential drawbacks based on their personal and professional goals.
Here are some of the challenges Locum Opticians face:
Lack of Job Security: Work inconsistency is one of the biggest challenges faced by locum opticians. There are instances when abundant job options are available, while there can be a period of scarcity of positions. The uncertainty can affect the flow of income and the guarantee of securing employment when desired. At Verovian Optical Recruitment Agency, we provide a solution to this challenge, as we consistently have access to job openings, including those not publicly published, ensuring a more reliable and steady stream of opportunities.

Adaptability: Adapting to a new work environment might be a little tricky and as a locum optician, you need to adapt to your work environment, colleagues, and the organization settings quickly to be able to have a good relationship and work collaboratively with your colleagues, and also deliver a good job. Our Agency can help you mitigate that problem by assisting you in looking for jobs around your environment. This ensures that you can remain close to your family and stay connected with friends while pursuing your career.
Financial Reward: As a locum worker, you may not have access to the perks provided to permanent employees, including health care insurance, retirement plans, sick leave, travel allowances, and more. Managing these aspects independently could impact your income. However, by registering with our Optical Recruitment Agency, you have the opportunity to access some, if not all, of the benefits typically offered to permanent employees. We negotiate pay rates, bonuses, or incentives with the company or employer, on your behalf.

The potential for career growth might be limited if you continually switch roles due to the nature of locum work. Our agency addresses this challenge by consistently assisting you in finding the specific role or position you aspire to work in, whether you choose to work as a domiciliary or store-based dispensing optician or a contact lens optician. This targeted approach not only allows you to accumulate valuable experience but also enables you to dedicate more time to a particular role, fostering your professional growth and development.
Tips on How to Become a Successful Locum Optician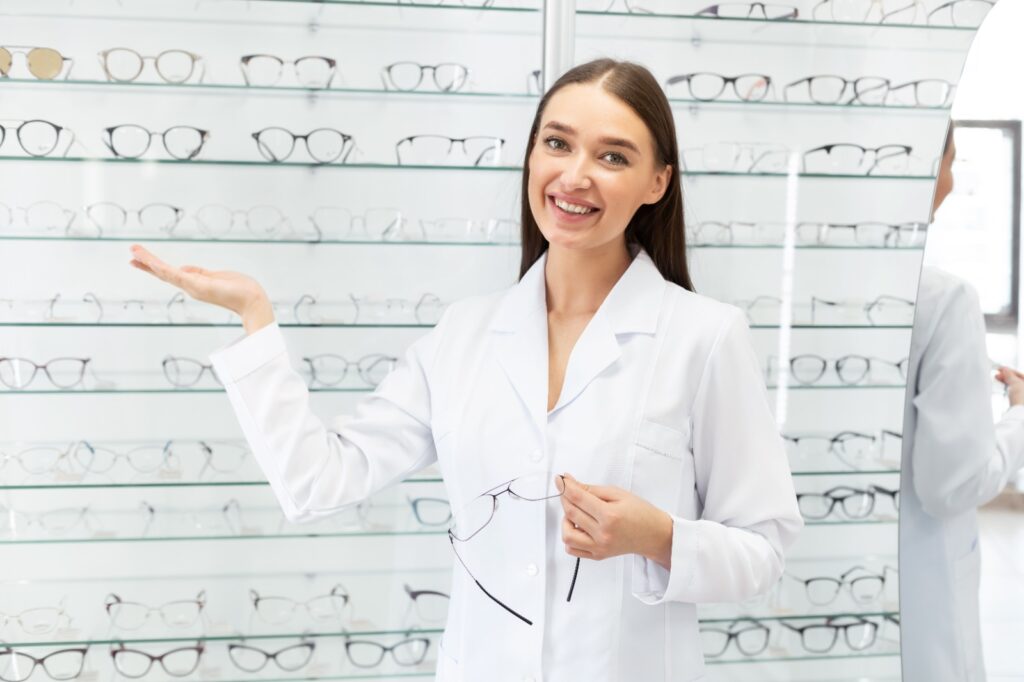 Get in touch with a reliable locum optical agency that connects optical professionals with available jobs, and look for reputable organizations that have a good track record of success. As a well-recognized Optical Recruitment Agency in the UK, we take pride in championing dedicated, and qualified optical professionals to achieve their career goals.

You need to obtain state licenses and some vital credentials, some organizations request for them depending on the location of the workplace. At our Agency, we assist our registered members with gathering the necessary documents, certifications, and licenses, ensuring they meet the requirements of the positions you are applying for.

Ensure that your resume, optical professional licenses, certifications such as GOC, and other necessary documents are easily accessible, as you may receive unexpected notifications about available job opportunities.

Exploring the Verovian Optical Recruitment Agency app or the website enables you to uncover job opportunities or positions that align with your qualifications and preferences. The Verovian Optical Recruitment app can be downloaded from the Play Store and Apple Store, offering the convenience of booking shifts while on the move.
Get familiar with the organization's policies, schedules, guidelines, procedures, and patient population. By taking the time to familiarize yourself with these, you not only integrate smoothly into the organization but also contribute to the overall efficiency and quality of care. It demonstrates your commitment to professionalism and enhances your ability to provide effective optical services within the organization.


Verovian Recruitment Agency plays a pivotal role in connecting Locum Opticians with rewarding job opportunities, simplifying the job search process, and providing ongoing support throughout their assignments.
Via our Optical Recruitment Agency, locum opticians have the opportunity to gain exposure to a range of assignments. This diversity fosters their professional development and expands their expertise across various optical settings.
Register with us to start a fulfilling career in locum
Conclusion
Exploring the realm of locum optician gives you the chance to design your career the way you want. The flexibility and rewarding career path make it an exciting journey for those seeking something beyond working in a permanent place.
If you are a professional or newly qualified dispensing or contact lens optician looking for an exciting path and ready to improve in various sections of your profession, embrace the world of locum and start a rewarding and exciting journey to success.
Introduction
The Benefits of Locum Positions to Practitioners
The Benefits to Patients
Conclusion

Introduction
In the world of vision care, the stipulation for specialized services remains constant, and the field of Optometry is no exception. While traditional full-time Optometry is the standard, the rise of Locum Opticians has introduced a unique and flexible term to deliver eye care services. In this context, we will look through the world of Locum Opticians, stating what they do, their significance in the healthcare industry, and their impact on both practitioners and patients.
In the ever-evolving landscape of vision health, the role of a locum optician stands out as proof of testament to adaptability and resilience. As the demand for eye care services continues to fluctuate, the vitality and flexibility of locum opticians have become integral to ensuring that communities receive quality vision care when and where it is needed most.
The Benefits of Locum Positions to Practitioners
The flexibility of locum positions allows optical professionals to fill staffing gaps, respond to sudden surges in patient volume, or cover for colleagues during vacations or leaves. In doing so, they play a crucial role in maintaining the continuity of eye care services, contributing to the overall health and well-being of individuals in diverse settings. They enjoy the privilege of experiencing different practices of various setups, from small local clinics to larger medical centers. This diversity helps them understand the degree of the industry and expand their expertise. Below are some highlighted benefits of locum positions for Opticians.
Locum work often comes with a higher hourly rate compared to a full-time position.
The financial gain is enticing, especially for those looking to earn a competitive income while maintaining control over their schedules.
Locum workers have greater control over their careers. They can choose the locations and types of practices that align with their preferences, fostering a sense of independence and autonomy in decision-making.
The various work environment of Locum Opticians increases networking opportunities with fellow professionals.
The Benefits to Patients
Even when the regular eye care provider is available, Locum Opticians ensures the continuity of patient care,
And ensures that appointments are available when patients need them the most.
They help and contribute to reducing waiting time.
Their diverse experiences help Locum Opticians bring a wealth of knowledge and skills to the table, benefiting patients with different eye care needs and conditions.
In summary, locum work benefits patients by addressing workforce shortages, improving access to care, reducing waiting time, and ensuring continuity of services. The diverse expertise and adaptability of a locum optician contribute to an enhanced overall patient experience within the field of eye care.
Conclusion
In conclusion, Locum Opticians are the face of the eye care industry, embodying flexibility, adaptability, and deep loyalty to patients' well-being. Their role as backups man and supporting fellow practitioners makes them an indispensable part of the healthcare system.
Introduction
Deciphering the Role of a Locum Optician
Responsibilities of a Locum Optician
Importance of the Role
Conclusion
Introduction
In the world of eye care, countless professionals play pivotal roles in ensuring our well-being. Among them are the Locum Opticians (Dispensing, Contact Lens, and Domiciliary) who stand as a crucial figure, safeguarding and enhancing our sense of sight. In this blog post, we will look closely into the roles, exploring their responsibilities, the importance of their work, and how they contribute immensely to general eye health in the optical field.
Deciphering the Role of a Locum Optician
A proficient and certified healthcare expert with a primary focus on the field of eye care. Unlike standard Opticians confined to static settings, our Locum Optician stands as adaptable, self-reliant professionals. They seamlessly step in temporarily, bridging gaps when the optician is absent. This dynamic role is characterized by expert capability and exceptional communication finesse. The power to engage functionally with diverse patient demography underscores their value. Partner with our agency today, to embark on a premium recruitment journey, guaranteeing the finest vision care delivered through the skillful expertise of our Locum Opticians.
From a viewpoint within our agency, we have come to understand that a successful Locum Optician possesses a strong foundation in Optometry and effective communication skills. They engage with patients from different work of life, providing quality care and stimulating trust.
At Verovian Recruitment Agency, we take pride in promoting the seamless integration of these skilled professionals into optical settings. Through collaboration with us, you gain access to experienced professionals dedicated to upholding the highest standards of patient care.
Responsibilities of a Locum Optician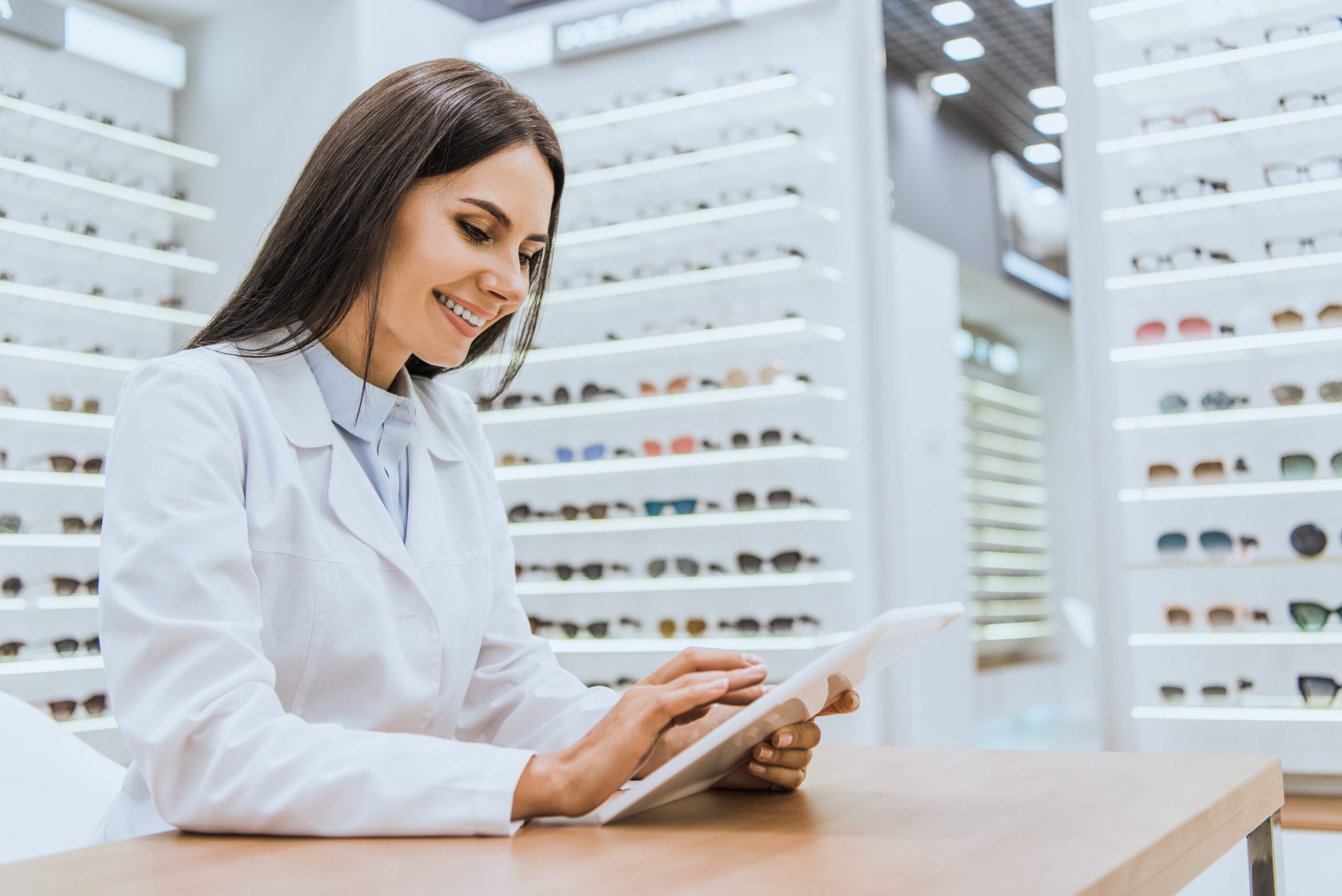 They provide observation and advanced diagnostic tools and identify eye abnormalities and conditions such as glaucoma, cataracts, macular degeneration, and more. These early detection efforts contribute significantly to preventing patients' vision.
They perform eye examinations to assess visual acuity, prescribe corrective lenses, and discover potential eye diseases. These examinations are critical for the early detection and prevention of serious eye issues.
One of their key responsibilities is to accurately determine the prescription needed for corrective lenses, such as glasses or contact lenses.
They assist patients in selecting suitable frames and ensure proper fitting to maximize comfort and effectiveness.
They educate patients about proper eye care practices, including hygiene, lens care, and preventing eye strain.
Provides valuable insight into maintaining optimal eye health and managing specific visual challenges.
In cases where more specialized care is needed, Locum Opticians refer patients to Ophthalmologists or other healthcare professionals.
Importance of the Role
One of the remarkable aspects of being a Locum Optician is the adaptability it demands. Working in a different environment, meeting diverse patients' needs, and collaborating with various healthcare teams require a unique skill set. Locum Opticians thrive on this versatility, keeping them engaged, sharp, and continuously learning.
Conclusion
The contribution of locum opticians to elevating vision care cannot be understated. Their flexibility and expertise ensure that individuals have access to eye care services when they need them most. By conducting comprehensive eye examinations, recommending corrective lenses, dispensing eyewear, offering expert advice, and supporting specialized eye care, locum opticians play a pivotal role in enhancing vision and care.
This role is a blend of fidelity, compassion, and expertise. Their contributions to eye care are priceless, as they provide essential services that impact individual daily lives and overall well-being. As a dedicated and outstanding recruitment agency, we will help Locum Optician stand as an indication for the advanced world of healthcare, committed to enhancing vision and promoting eye health. To be part of our agency, kindly visit https://verovian.vision/ to register with us.
Introduction
The concept of permanent optometrist jobs is now transforming, locum optometrist positions are gradually taking over. This career path has been progressing lately. Many optometrists and those who are just starting their careers are finding it more comfortable than a permanent job.
In this blog post, we will delve into the reasons why you should work as a locum optometrist, and how you can make the most of your locum experience.
Why You Should Work as a Locum Optometrist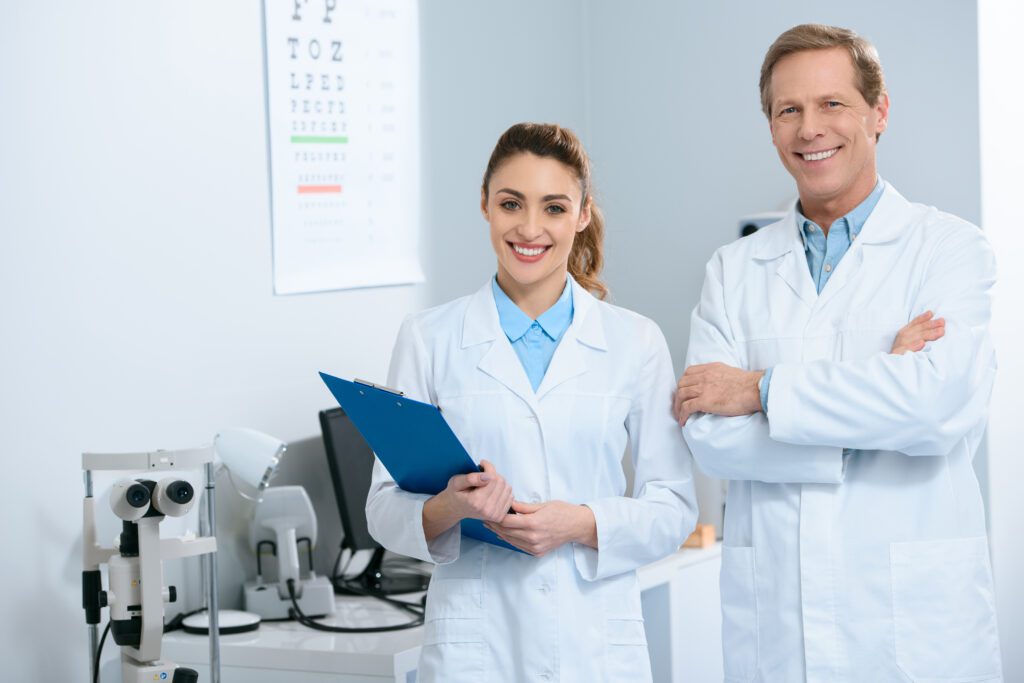 High rate of payment: One of the main advantages of locuming as an optometrist is the high rates of pay. In most cases, locum optometrists get higher pay than permanent optometrists because experts are employed and they are expected to work with little or no supervision. Employers believe they are paying for experts, so you will be expected to act like one from day one. You get good pay for your expertise and availability.
Diverse Experience: As a Locum Optometrist, you will often find yourself working in different optical centers and clinics which allows you to gain more exposure to various clinical settings, learn new things that will help you expand your knowledge, and network with others.

Flexibility: Locuming provides the flexibility to choose when and where you work. This allows you to allocate time for personal interests, passions, family, friends, and health or fitness pursuits. As a result, it fosters a more balanced work-life dynamic.
Professional Development: Locum Optometrists who work in different practices engage in continuous learning and are better equipped to assess and adopt new technologies, diagnose conditions accurately, and provide the most effective and safe treatments. This makes their skills remain relevant and up-to-date. Continuous professional development is often a requirement for maintaining professional certifications and licenses. Regularly updating skills ensures that locum optometrists remain in compliance with industry standards and optical regulatory bodies' requirements like GOC (General Optical Council).
Making the Most of Your Locum Experience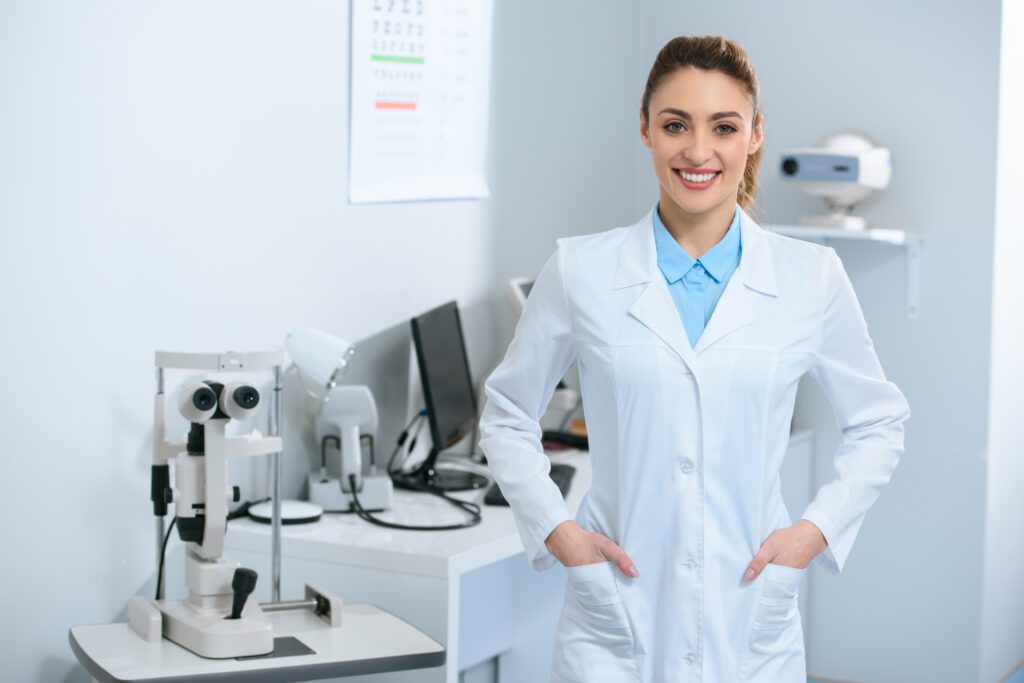 Research and Preparation: Research the organization and its traditions, and familiarize yourself with policies, protocols, and how they operate before accepting the work assignments. This enables you to be more prepared to carry out your assignments effectively. Registering with our Optical Locum Agency enables you to get all the essential information you need to know about the organization's policies and the way they operate. This spares you the effort of independently discovering all the necessary details.
Communication: It is important to have clear and concise communication with the lead team of the organization. Ask questions about the things you don't understand and discuss your roles, pay rates, bonuses, and expectations. As a reputable Optical Recruitment Agency in the UK, we take it upon ourselves to find out about the organization or employer our registered members are about to work for to ensure they have a smooth working system.

Lifelong Learning: Be updated with the latest trends and advancements in the industry. Establish new knowledge in your work, enhancing your value as a professional locum optometrist. This allows you to expand your expertise in your profession.

Build Your Portfolio: Combine all your multiple experiences, positive feedback, and interpersonal and acquired skills into a compelling portfolio. This can serve as a testament to your adaptability and competency to future employers.

Financial Planning: As a locum optometrist, developing a financial plan to manage the income fluctuations that may come with locum work is important. Financial plan development is a dynamic process that requires ongoing attention and collaboration with a financial advisor. By combining budgeting, risk management, tax planning, and strategic investments, you can navigate the challenges of variable income while working toward long-term financial security and success
Education and Career Progression: Invest in your own career progression to enhance your skills and potentially increase your earning potential. Budget for relevant courses, conferences, or certifications that can contribute to your career growth.
Market Yourself: Develop a professional online presence through a personal website or social media account to showcase your skills, experience, and testimonials. Stay connected with us on our social media platforms at Verovian Optical Recruitment Agency on Facebook and LinkedIn to get the latest job updates and tips on how to thrive in your career as a locum optometrist.
As a well-recognized Locum Optical Recruitment Agency in the UK, we specialize in matching Locum Optometrists with suitable job opportunities based on their skills, qualifications, and preferences. We save them the time and effort of searching for positions that align with their expertise.
We have extensive networks with optical organizations and employers. This broad reach increases the chances of locum optometrists finding diverse job opportunities in various locations.
Additionally, we assist in negotiating contracts, ensuring that our registered members receive fair compensation and favorable terms. This can be especially beneficial for those who may be unfamiliar with the negotiation process.
Conclusion
It doesn't matter whether you are a professional or a newly qualified optometrist, If you value flexibility, diverse experience, and networking opportunities, consider locum positions, and embrace the enriching and fulfilling career opportunity.
Think of us as your Locum Optical Recruitment Agency to expand your career progression.
Introduction
The benefit of Pursuing a Locum Career
The Challenges Encountered by Individuals in the Locum Optometry Field
Strategies for Enhancing your Locum Career.
Conclusion.

Introduction
The field of optometry is experiencing a notable and growing trend, marked by shifts in how optometrists approach their careers. This trend is characterized by an increasing number of optometrists choosing locum tenens or temporary positions over traditional, full-time roles. The appeal of flexibility, diverse experiences, and the opportunity for professional growth has led to a rise in optometrists opting for locum tenens work. This evolving trend reflects a changing landscape within the optometry field, where practitioners are seeking more dynamic and adaptable career paths to meet their individual needs and preferences. In this guide, we will be looking extensively at the benefits and the challenges of being a locum optometrist in the UK.
The Benefit of Pursuing a Locum Career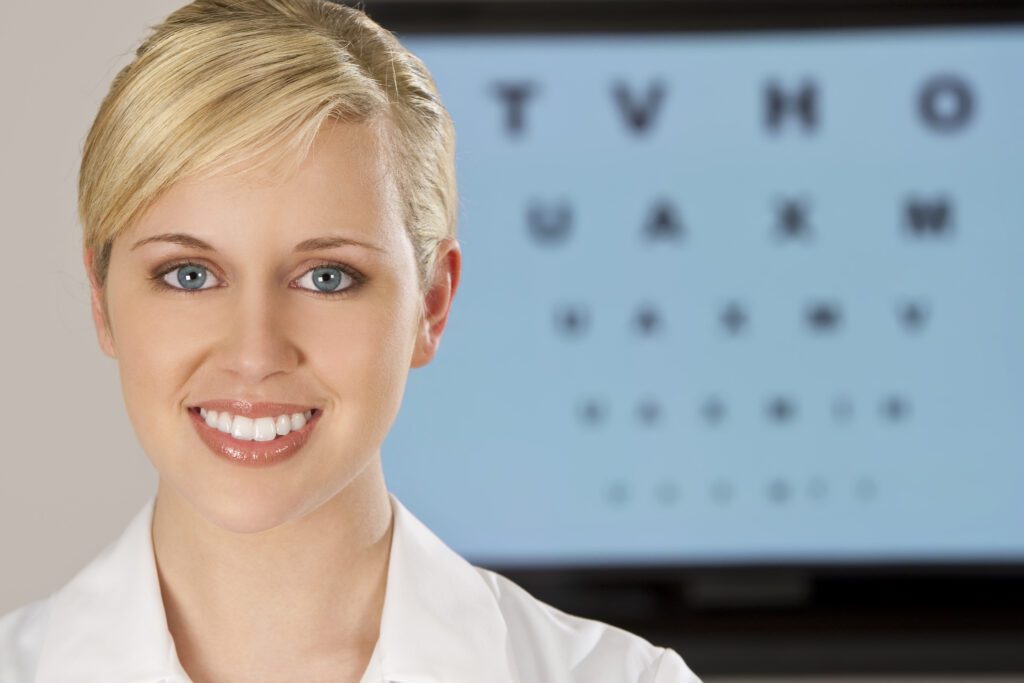 Flexibility: One of the biggest advantages of working as a Locum is the flexibility it offers. You can choose where and when you work, allowing you to balance your professional and personal life more effectively and efficiently.
Financial Potentials: Depending on demand and your availability, working as a Locum is rewarding. You may have the chance to negotiate your rates and earn a higher income compared to a full-time optometrist.
Skills Development: Handling different cases and working in diverse settings strengthens your adaptability. You will encounter various eye conditions and challenges, prescriptions, and patient demography, expanding your clinical expertise.
Networking: working as a Locum Professional allows you to connect with different professionals and dedicated consultants in the optical field. Whether learning from experienced Optometrist or discovering potential job openings, networking can lead to valuable and long-lasting opportunities.
The Challenges Encountered by Individuals in the Locum Optometry Field
Uncertain Schedule: While enjoying flexibility can be considered a benefit, the uncertainty of your work can sometimes be challenging. Our Recruitment Agency is dedicated to assisting you in achieving a harmonious balance between your shift and desired locations, all through the implementation of efficient time management.
Inconsistent Income: Strategic planning and precise budgeting hold significant importance, as your earnings can vary according to demand and your schedule. This understanding is crucial to our agency as we stand to negotiate favorably on your behalf.
Limited Benefit: Unlike permanent positions, locum roles might not offer the same benefits package which may include insurance, retirement plan, sick pay, or paid-off time.
Strategies for Enhancing your Locum Career.
Stay organized: Keep a proper and well-detailed schedule, and track your assignments, payments, and expenses. This will help you manage your finances and plan.
Networking: Make use of the networking opportunity presented by your varied work environments. Meet and connect with colleagues and employers to build professional relationships.
Continuous Education: continuing professional development and keeping up to date with the latest advancements in Optometry through workshops, seminars, and online courses. This will ensure you provide the best care to your patients. In the optical field, the GOC makes it essential for all Professionals to undertake CPD.
Being Part of an agency like Verovian Recruitment Agency can profoundly impact your locum career. With access to diverse opportunities, tailored support, and seamless placements, the agency enhances your professional journey. Register with us at https://verovian.vision/ and experience a dynamic and fulfilling locum career, backed by the expertise and resources of a trusted recruitment partner.
Finally, It is important to maintain a healthy work-life balance and set boundaries to prevent burnout.
Conclusion
Embracing this role can open the door to a fulfilling career, particularly for individuals pursuing flexibility, and diverse experiences across the UK to broaden their professional connections. With a clear grasp of both the merits and potential challenges of this journey, connect with our Optical Agency to help you make a knowledgeable decision that will match your professional ambition and personal aspiration as a Locum.
Introduction
Understanding the Duties
Benefits of Being a Locum Optometrist
Key Pointers for Achieving Success as a Locum Optometrist
Conclusion.

Introduction
Choosing a career in the optical field is an exciting journey filled with opportunities to make a real difference in people's lives. If you are aspiring to consider a unique path within this field, this role might just be a perfect fit. You will have the chance to experience a diverse range of settings, enhance your skills, enjoy flexibility in your work, pursue outside interests, and travel. This piece will guide you through the ins and outs of being a Locum Optometrist and offer valuable tips.
Picture a role that will enable you to adapt, and thrive, and often exposes you to different clinical environments and patient populations. They have more autonomy over their schedule which helps them balance their professional journey with their personal life effortlessly. For those who prefer consistency and a deeper connection with a specific practice, the traditional full-time route offers its allure. Become an integral part of the eyecare facility's culture operation. Your focused dedication allows in-depth and building lasting relationships with patients. With us as your guiding compass, you are not just choosing a career; you are stepping into a world of possibilities.
Understanding the Duties
They are optical professionals who provide temporary or short-term optometry services. This role is crucial for covering staff shortages, vacation periods, and peak seasons in various optical settings, such as private practices, retail outlets, and clinics. You might work in different locations, interacting with various patients, and experiencing diverse clinical challenges.
Benefits of Being a Locum Optometrist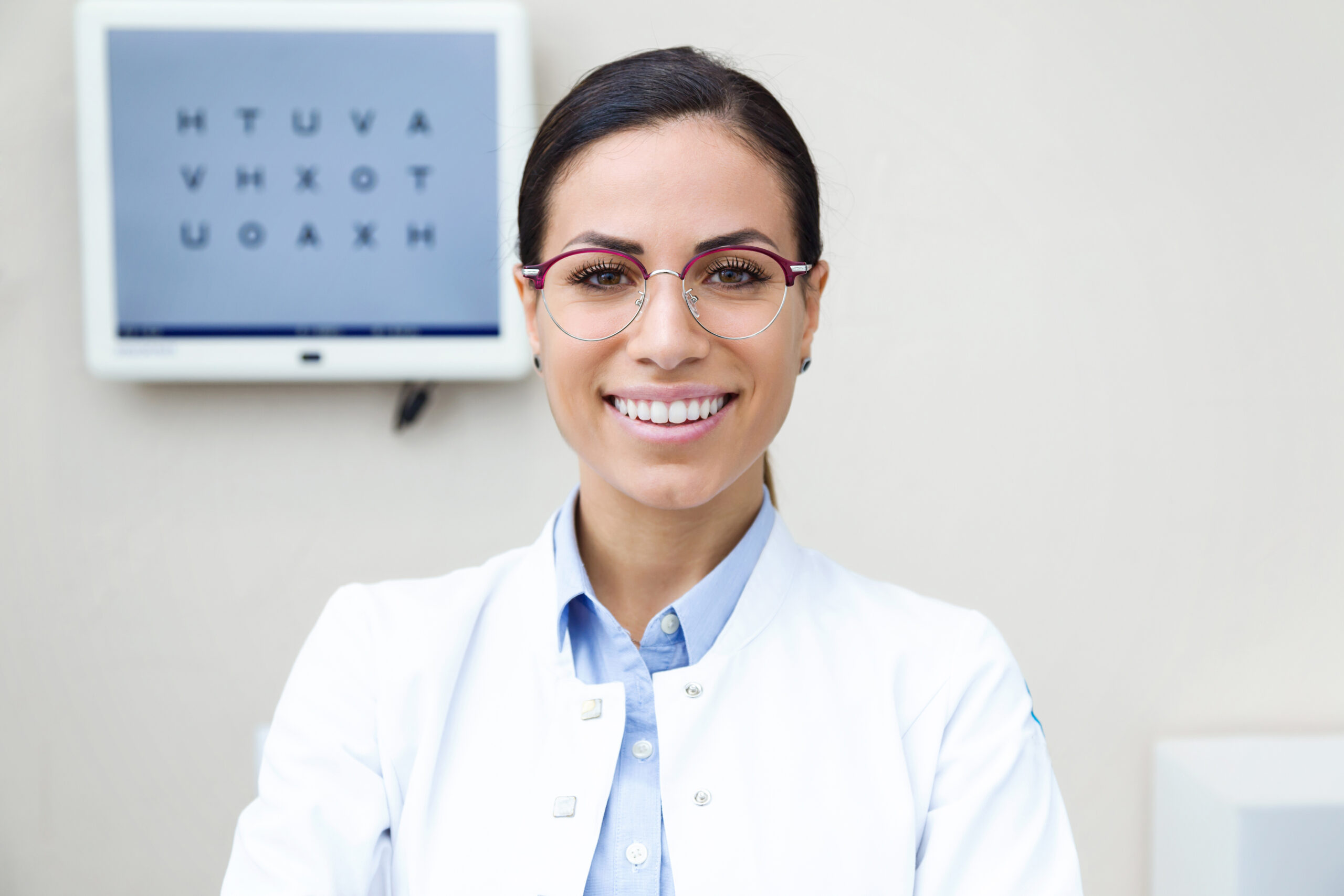 Flexibility: Flexibility and adaptability radiate as indispensable qualities. As a locum professional, these traits are not just desirable but vital to your success. The most enjoyable aspect is the flexibility it offers. It will allow you to create a work-life balance that suits your needs, and allow you to pursue other passions like starting your own company, starting a blog, traveling more, and spending more time at home with your family. Adaptability, on the other hand, equips you to navigate diverse challenges that may arise within different clinical environments.
Working in different environments exposes you to a wide range of cases and challenges that will constantly sharpen your clinical skills, and adaptability, broaden your knowledge generally, and also expand your ability to solve problems.
Reduced Administrative Burden: Another benefit of short-term assignments is lighter administrative duties. The biggest difference between a locum assignment and being in private practice is reducing the number of administrative responsibilities, such as dealing with insurance companies and state boards, and other related duties.
Networking: Being a Locum provides excellent networking possibilities. You will meet new people of different professional backgrounds, potentially leading to valuable connections that could positively and genuinely impact your career.
Diversification: Your various settings and environments will keep your job interesting and engaging. Whether in the aspect of conducting eye exams, fitting contact lenses, or offering medical eye care, each day could bring a new experience.
Key Pointers for Achieving Success as a Locum Optometrist
Effective communication: Since you will interact with various staff members and patients, clear, and perfect communication is important. Listen attentively to patients' concerns and collaborate seamlessly with the existing team.
Build a Strong Reputation: Your reputation is one thing to protect with all diligence. Provide quality care, demonstrate professionalism, and maintain a good record to ensure you are invited back to the same location.
Ability to Adapt Quickly: Every clinic or organization operates differently. To be successful, you must be adaptable and open to new protocols, software systems, and workflows. Your ability to quickly adapt will earn you respect from staff and patients.
Professionalism: Dress properly, arrive at work on time, and conduct yourself professionally. Your behavior will not only reflect on you but also the facilities you are working in.
Continual Learning: Stay up-to-date on the latest trends and advancements in Optometry. Attend conferences, seminars, and webinars to enhance your knowledge and skills to overcome new challenges.
Becoming a part of Verovian means joining a community of dedicated individuals who are committed to making a positive impact in the world of eye care across the UK. Whether you are a skilled professional or an enthusiastic newcomer, we embrace diversity and value your unique perspective. At our agency, we believe in encouraging growth, collaboration, and innovation. As a member of our team, you will have the opportunity to sharpen your skills, learn from industry experts, and contribute to sustainable and meaningful projects that shape the future of the Optical field.
In our nurturing and inclusive environment, you are more than an employee. You are a cherished collaborator in our mission, and welcoming you aboard fills us with anticipation, eager to witness how your talents will enhance the vibrancy of our team.
Conclusion
To be successful in this optical industry requires a combination of professionalism, adaptability, and a genuine passion for Optometry. By choosing this career, you open yourself to a world of multiple experiences and opportunities for growth. Enjoy the dynamic nature of the role, embrace the challenges and joy that come your way, and you will find yourself making a difference in the field of Optometry.
Introduction
Opticians play a crucial role in ensuring the well-being of the human most precious sense organ (eye). Locum opticians, experience a unique journey that takes them through diverse clinical settings, patient interactions, and challenging cases.
In this blog post, we will look into the enthralling world of locum opticians, exploring their customary experiences, challenges, and impact on society.

The World of a Locum Optician
The world of a locum optician is characterized by a blend of adaptability, continuous learning, diverse experiences, and the opportunity to make a positive impact on patient eye care. It is a profession that thrives on change and embraces the challenges of working in different settings. For those who enjoy variety and the satisfaction of contributing to eye health across various practices, being a locum optician offers a rich and fulfilling career path.
The Customary Experience of a Locum Optician
The dynamic lifestyle of locum opticians offers them exposure to various work environments, patient demographics, and eye care technologies.

Dynamic work environment: Locum Opticians who express a willingness to travel open themselves up to a spectrum of opportunities to practice in diverse locations, extending beyond their usual or local work setting. This flexibility allows them to immerse themselves in the optical field across various cities, broadening their professional experience and exposure to different patient demographics, regional eye care needs, and working environments. Embracing this mobility not only enriches their skill set but also provides a unique chance to contribute to eye care services in varied urban or rural settings, fostering professional growth and adaptability.
Meeting Varied Patient Needs: One of the most fulfilling aspects of being a dispensing or contact lens locum optician is the chance to interact with diverse patients. Every individual comes with their own visual needs, medical history, and concerns and there is always a need to quickly establish a good relationship, communicate effectively, and provide personalized solutions.
Exposure to Different Technologies: Various optical establishments utilize different technologies and equipment. As locum opticians take on diverse assignments, they are exposed to a variety of electronic health record systems, diagnostic tools, and treatment technologies, thereby enriching their overall set of skills.
Problem-Solving Skills: Locum opticians, by their temporary assignments in various work environments, routinely face a spectrum of challenges unique to each setting. This diversity demands a high level of adaptability and problem-solving skills. As they transition from one location to another, they encounter varying office protocols, patient populations, and team dynamics. This necessitates the ability to swiftly analyze and address unfamiliar situations, whether it is adjusting to different practice management systems, understanding new workflows, or effectively communicating with diverse colleagues and patients.
Challenges of Being a Locum Optician
Continuity of Care: Locum opticians often need more continuity of care, unlike regular opticians who have built long-term relationships with their patients. They find it quite difficult to monitor patients' eye health, especially when they finish their assignments in that practice. They don't get to see the same patient on subsequent visits

Limited Familiarity: When locum opticians resume a new clinic or practice, they must swiftly familiarize themselves with the procedures and equipment they use there because every clinic or organization has its unique way of doing things. As a highly recognized Optical Agency in the UK, we assist our registered members in finding out about the environment they are about to work in. This enables them to learn more about the activities and environment of the company before starting their work assignments.

Variable Pay Rates: Pay rates for locum opticians can vary based on location, demand, and experience. There may be periods of unemployment or lower pay between assignments. At Verovian Optical Recruitment Agency, we negotiate pay rates, bonuses, or incentives on behalf of our registered members to ensure they get fair payment and compensation for their assignments.

Demand for Locum Opticians: The demand for locum opticians can fluctuate based on various factors, including the time of year, community events, or specific optical needs within a region. Higher demand often leads to increased pay rates as clinics may compete for the available pool of locum professionals. In instances where there is a limited demand for locum opticians, job opportunities in this field can be hard to find. Our Agency provides a solution to this challenge, as we consistently have access to job openings, including those not publicly published, ensuring a more reliable and steady stream of opportunities for our registered members. This also ensures a more dependable and continuous flow of prospects for them.
However, the challenges that come with being a locum optician only serve to enhance the journey, building an adaptable and competent professional.
Despite the challenges, locum opticians play a crucial role in the eye care system.
Here are some of the impacts of Locum Opticians on society
Impacts of Locum Opticians on Society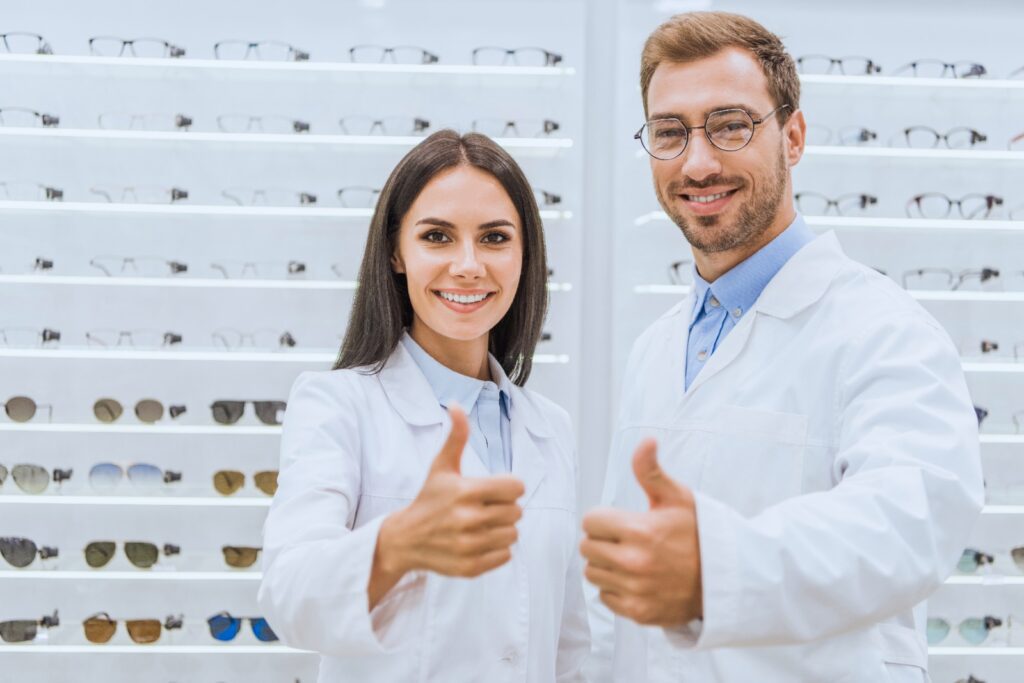 They contribute to innovation and improve patient care due to the diverse approaches and techniques they have been exposed to in their various practices.
Locum opticians give back to societies, especially those working in rural areas by sacrificing being the only eye care service provider around or available when permanent opticians are away.
For individuals who require assistance from caregivers, having a locum domiciliary optician to provide in-home eye care services can be a relief. It reduces the burden on caregivers and ensures that the person under their care receives essential eye care.
Locum domiciliary opticians often engage in community outreach and education, raising awareness about the importance of eye health and the availability of in-home optometry services. This outreach can contribute to a better-informed and healthier community.
Locum opticians bring diverse skills and experiences to practice, offering a fresh perspective and potentially introducing new techniques or approaches to eye care.
At Verovian Optical Agency, we offer essential assistance for Contact lenses and dispensing opticians in getting job opportunities. Within our agency, we maintain broad networks and collaborations with well-regarded optical establishments, including optical clinics.
We link skilled locum opticians with relevant job opportunities that align with their expertise, background, and preferences.

Also, we streamline the application and placement process, making it more efficient for locum opticians. We can assist with paperwork, credentialing, and other administrative tasks, reducing the burden on our registered members.
Conclusion
In the chronicles of locum opticians, with our top-notch quality services as a locum agency, we help you make every standard resonate with mastery and adaptability.
The ability of locum opticians to seamlessly combine various eye care settings and provide exceptional care showcases their dedication to their profession. They play an indispensable role in upholding the gift of sight.
If you're a dispensing or contact lens optician seeking a dynamic and rewarding path, choose the visionary path of unmatched excellence by embracing the adventure of being a locum optician.
Register with us at Verovian Optical Agency to start a fulfilling career in Locum.